Apart from our 11 German courses every weekday, we have developed a number of projects to better integrate refugees into our society.»Hispi goes Ehrenamt [voluntary commitments]«, free style oil painting in co-operation with the cultural office of the town, excursions in groups.
More information can be found in the respective descriptions:
Hispi for U – RE:Match
In cooperation with the state capital Düsseldorf, we organised a 7-week programme for 15 Ukrainian women as part of the RE:Match project, providing support and information about life in Germany.
Various workshops and a German language course were organised for this purpose. Another component was the invited experts who provided information on the job centre, school and social system, banking and health insurance.
Hispi for U – Donation Project for Ukrainian Refugees
In cooperation with the city of Düsseldorf, we coordinate on a voluntary basis the incoming donations of the city's donation center "Düsselshare". There, Ukrainians in need receive food, hygiene articles, clothing and many other things, depending on their needs. This is done with the active support of the citizens of Düsseldorf. Donations are handed out from Monday to Friday from 2 p.m. to 5 p.m. and on Saturdays from 10 a.m. to 1 p.m.
Donations can always be dropped off from 4 to 6 p.m. and Saturdays from 10 a.m. to 2 p.m.
Erasmus + project in adult teaching »Creative FEM-Power«
Our project »Creative FEM-Power« focuses on developing, testing and evaluating language teaching modules as well as career planning of female migrants by making use of creative methods. The 24 month project, supported by Erasmus +, is jointly carried out by Eurocultura (Vincenza, Italy), DISORA (Maribor, Slovenia), Teattrimuseo (Helsinki, Finland); Hispi are the coordinators.
With the participation of female migrants we hope to develop:
guidelines on how to teach languages creatively. This is intended to strengthen language competence, to aim at increasing an interest in the new language by personal success and to further self-taught learning.
guidelines on how to find and develop job potentials using creative methods.
guidelines on how to do a workshop on career planning using creative methods.
a handbook which describes the workshops and constitutes a curriculum for working with female migrants.
Hispi-LAB – Learning for training and job (in German 'Ausbildung und Beruf')
Are you an apprentice or student at a Berufskolleg? And do you need support in some subjects like German, Maths, History, Politics, etc.? Then you are very welcome at Hispi LAB.
When? On Monday, Tuesday and Thursday between 17:30 and 19:00.
Where? Hispi, Graf-Adolf-Straße 22, 40212 Düsseldorf
How? Individual help with your homework and all the subjects you need support for.
After registering you can take part as soon as there are places available. Please ring 0211 669 638 43 or write to info@hispi.de to make an appointment.
Hispi goes Ehrenamt
In this project, we suggest that advanced learners do volunteer work, where they can apply what they have learnt and do something helpful at the same time. Depending on the varying personal interests we support the future volunteers in their search for an appropriate job and offer help with their applications. Meeting and getting to know others contributes – on both sides – to reducing possible prejudices and fear of encountering a different culture. It also helps to find common ground and to explain differences.
Art workshops in co-operation with the cultural office
This is guided by a professional artist who teaches you facts about painting with oil, and you also get information on the European history of art.
Photographic Project in co-operation with AJA
The AJA Project offers young people and communities who have long been underrated a platform to use the power of self-expression in a creative way. In what is called 'participating photography' they are invited to reflect upon their personal and social landscapes and to critically analyze them. Together with Shinpei Takeda, the participants have explored photography. The results are being shown as banners at the moment.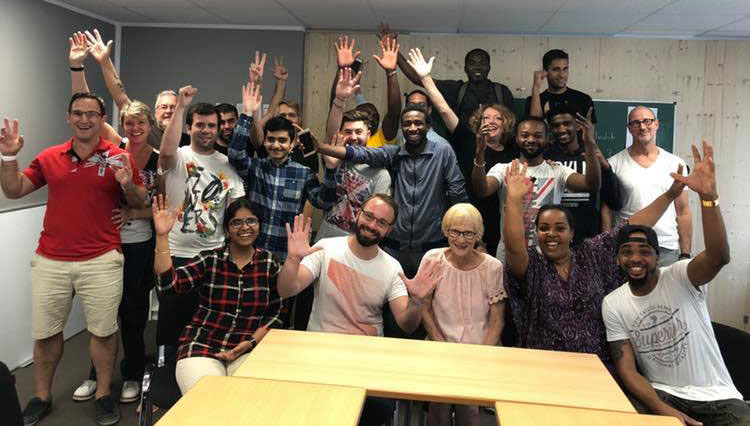 Integration workshops
In October 2015, weekend workshops were devised at Hispi in order to inform the newly arrived migrants about our constitution and our way of life. There have been lively exchanges about differences and similarities between the countries of origin and Germany. In January 2016 a new version was created to cater for the different needs of adolescents. The two-day-workshops are offered once every three months.